PurMa™ Mycosplasma PCR Detection Kit – 100 RN
$510.00
Product Number: P4406-03
Size: 100 RN
Storage Temperature: -20°C
Category: Mycoplasma Detection and Elimination Reagents
Description
An estimated 15% of U.S. laboratory cell cultures are contaminated with various species of mycoplasma. One crucial feature of Mycoplasma is unnoticeable growth in cell cultures with lack of turbidity and the ability to pass through filtration systems due to the size of the bacterium being 0.15-0.2 µm.
Additionally, Mycoplasma bacteria are resistant to the typical antibiotics that are used, which causes the inevitable bacterial infection to persist and having the potential to spread from one lab to another with the introduction of a new cell lines, becoming the primary source of infection
Without a routine method of detecting mycoplasma to be implemented in the laboratory, cell lines growing in the incubator, will physiologically and metabolically be affected and with the regards of difficulties in eradicating the infection, the infection will spread rapidly among the healthy cell line or either other laboratories in the same building. Listed in Table 1, is the species of mycoplasma being detected by this kit.
Table 1. Species of Mycoplasma being tested via PCR.
Species
A. laidlawii
M. arginini
M. fermentans
M. hominis
M. orale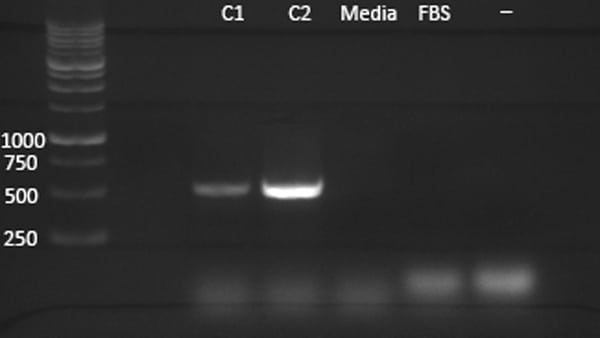 Figure 1. An example of the use of our mycoplasma PCR detection kit using two known contaminated sources and testing against our media, FBS, and negative water control.
Citation
Nikfarjam, Laleh, and Parvaneh Farzaneh. "Prevention and Detection of Mycoplasma Contamination in Cell Culture." Cell Journal (Yakhteh) 13.4 (2012): 203–212. Print.